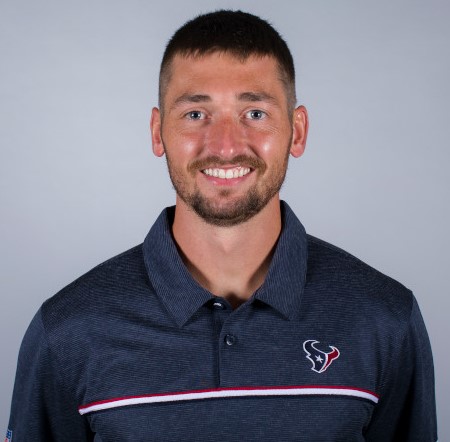 Matt Van Dyke is the Director of Sports Science for the Houston Texans. With the Texans, Matt is responsible for the management of training loads and other performance aspects implemented to each individual athlete in order to maximize performance and readiness.
Prior to his position with Houston, Van Dyke was the Associate Director of Applied Sports Science at the University of Texas. During his tenure with the Longhorns, Matt was responsible for the oversight of the football team in regards to training loads and recovery processes applied in order to create an optimal level of performance availability for each competition.
Before his position with the University of Texas, Van Dyke was the Associate Director of Sports Performance at the University of Denver. During his tenure at Denver, Matt was responsible for designing and implementing speed, strength, conditioning, and mobility training programs for men's lacrosse, alpine ski, volleyball, tennis and swimming.
Preceding his role with the University of Denver, Matt was the Assistant Director of Strength and Conditioning for Olympic Sports at the University of Minnesota. During his time at Minnesota, Matt was responsible for performance programming for men's and women's hockey, baseball, track and field, and the women's golf team.
Matt completed his Graduate Assistantship as a strength and conditioning coach with multiple teams at St. Cloud State University, where he earned his Masters of Science in exercise physiology and nutrition in May of 2015.
Prior to his GA role at St. Cloud State, Matt served as an intern coach with the Iowa State Olympic Strength and Conditioning staff in the summer of 2012, with the Iowa State Football Strength and Conditioning staff under Yancy McKnight in the spring of 2013, and most recently with the University of Minnesota Olympic Strength and Conditioning staff under Cal Dietz in the summers of 2013 and 2014.
Matt most recently released "Force is King", "Isometrics for Performance" and "Applied Principles of Optimal Power Development" with Max Schmarzo and"Triphasic Lacrosse Training Manual", has presented at the 2018 RAWO Performance Clinic on the "Implementation of an Effective Annual Plan to Achieve Optimal Performance", and 2015 CSCCa National Conference on "Advanced Triphasic Training Methods", in both 2014 and 2015 at the Minnesota Sports Performance Clinic, is a co-author of "Triphasic Training, A High School Strength and Conditioning Manual" and "Balance of Power" in the September 2014 issue of Training and Conditioning, and has articles on xlathlete.com, while also writing for his professional website vandykestrength.com.
Matt was a member of the Iowa State Football Team for 4 years as a wide receiver where he earned Big XII Second Team Academic Honors for the 2011, and 2012 seasons.
Matt is certified by the Collegiate Strength and Conditioning Coaches Association (SCCC). He earned his Bachelor's Degree in exercise science from Iowa State University in December of 2012.